The Evil Mastermind guitars. You heard me.
I caused some trouble recently… mostly for myself, as it turns out.
We were discussing plans for the trade shows SourceGear is attending this year, and had more-or-less settled on a 'beat Jeremy at Guitar Hero contest' as the main attention-getting activity. But we also wanted a giveaway, a raffle open to all attendees.
In the past, that's taken the form of Wiis, Xboxes, etc. Always fun, but everyone's doing it.
And then I noticed that a certain guitar manufacturer now has a custom shop wherein you can upload your own artwork, which will then end up as custom graphics on your specially-built guitar. The thought of giving away an Evil Mastermind guitar was just too appealing. Given that Eric and I have shared interests in this area, we quickly agreed that we had to do this.
John Woolley, graphic genius and mastermind of the Evil Mastermind, even did a all-new "painted" rendition of T.E.M. for the occasion.
Sadly, Big Guitar Company has something like a 20-week lead time, and it took almost 3 weeks for them to return phone calls asking if that could be improved on — by which time, it was really too late to be ready for SD West.
But we found another company, Art Guitar, who do essentially the same job, but on existing guitars. And in much less than 20 weeks.
So what guitar, now that we weren't bound to a single manufacturer? I chose a Schecter PT Custom because (a) it's a plain, black top, making a nice canvas and (b) well,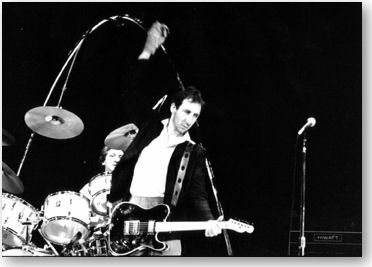 That's why. Turns out they're a bit hard to find at the moment. Scored one from eBay, one from a music store, still waiting for more.
After scrambling to find the first couple of PTs we'd need, it was disassembly time (easier for Art Guitar if we just send bodies).
So what arrived as this: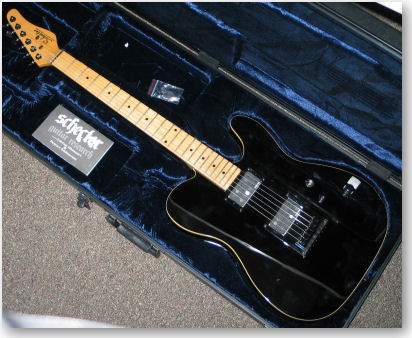 was stripped by Shaw and myself to this (as modeled by Shaw):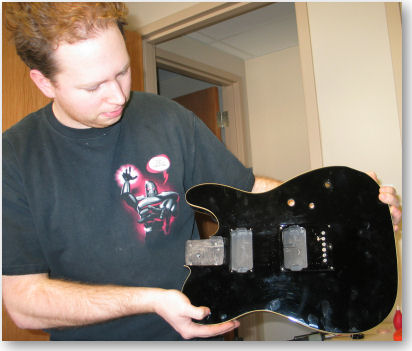 Off to Art Guitar for a few weeks, and this morning the finished product arrived: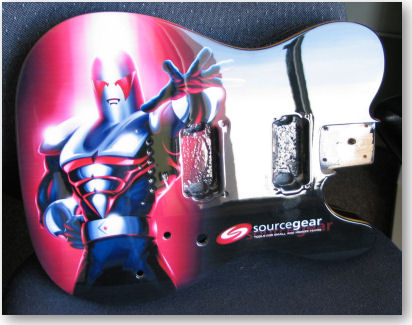 Actually, two (one's for TechEd):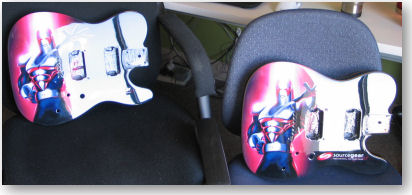 So once again, I got to spend the morning with soldering iron and screwdrivers in hand, and we end up with this: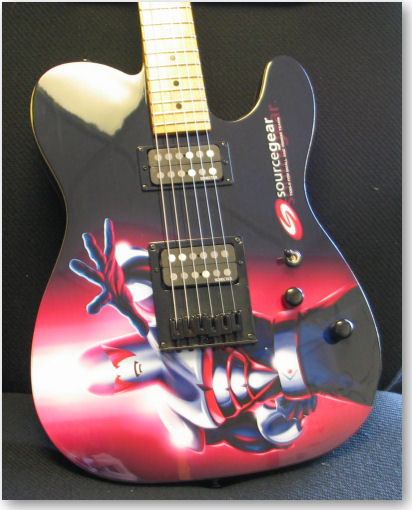 It's all set to be picked up by FedEx this afternoon, off to the show, just in time:

Want to win it, case and all? Stop by SourceGear's booth (#308) at SD West next week and we'll tell you when to pick up your raffle ticket.
And don't forget to beat Jeremy and score some free Fortress licenses — he's good, but he's not that good.